Hola, chicas:
Hoy me gustaría compartir con vosotros la manicura exprés que me hice en Nochevieja.
Como véis, combiné dos viejos conocidos de mi arsenal, que están como el primer día.
Lo cierto es que había pensado hacerla combinando el rojo y el dorado, pero para mi sorpresa, el rojo estaba seco y lo he tenido que jubilar anticipadamente y está ya en una entrada de Terminados.
Me apliqué una capa de base (Essence), una capa generosa de estos esmaltes. Con un 'dotting tool' hice puntos en dorado y dejé secar un poco antes de aplicar el esmalte de acabado, también de Essence.
Esta manicura me duró 4 días. Empezó a estropearse tras lavarme el pelo el esmalte en varias uñas, principalmente en la mano derecha.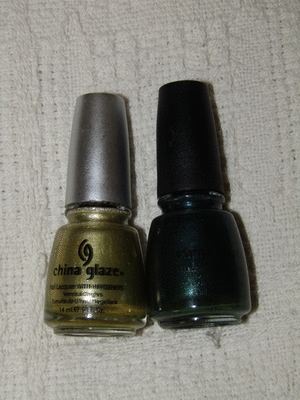 ¿Os pintásteis las uñas para recibir el año?
Hi girls,
Today I'd like to share with you the quick mani I gave myself for NYE. As you see, I combined two old fellas in my stash that I'm happy to report are as good as new.
The truth is I had planned to combine gold and red, but I was in for a surprise as that had dried out for good. It took early retirement and is now on an Empties post.
After applying my Essence basecoat, I applied a generous coat of these polishes and allowed them enough drying time before using a 'dotting tool' with the gold varnish. I then waited a couple of minutes before I finished this mani off with my trusted Essence topcoat.
This mani lasted in great condition for 4 days. I washed my hair and then I started to get some chipped tips, especially on my right hand.
Did you do your nails to welcome the New Year?